Finding a good managed Magento 2 hosting is never an easy task as Magento 2 is a very complicated application. We can't make sure if our website works well on a hosting provider that we have never tried before.
If you stumble on this Cloudways Magento 2 hosting review, probably you are having some questions like this:
Performance: How is Cloudways hosting's performance on real websites?
Features: Does Cloudways offer all the required features to run your Magento 2 website?
Reliability: What is users' feedback on Cloudways service?
Pricing: Hosting plan pricing, are there any deals that can save you money?
Customer Support: How does Cloudways support their customers?
Reviews from real users around the world: Let's see real customers' feedback about Cloudways
As a Magento 2 developer who has been working on various Magento 2 projects on Cloudways, I will cover every aspect of Cloudways, from hosting features, performance to customer support, pricing in this review.
I hope the review will help you make your final decision to use Cloudways to host your Magento 2 website or not.
Cloudways Pros and Cons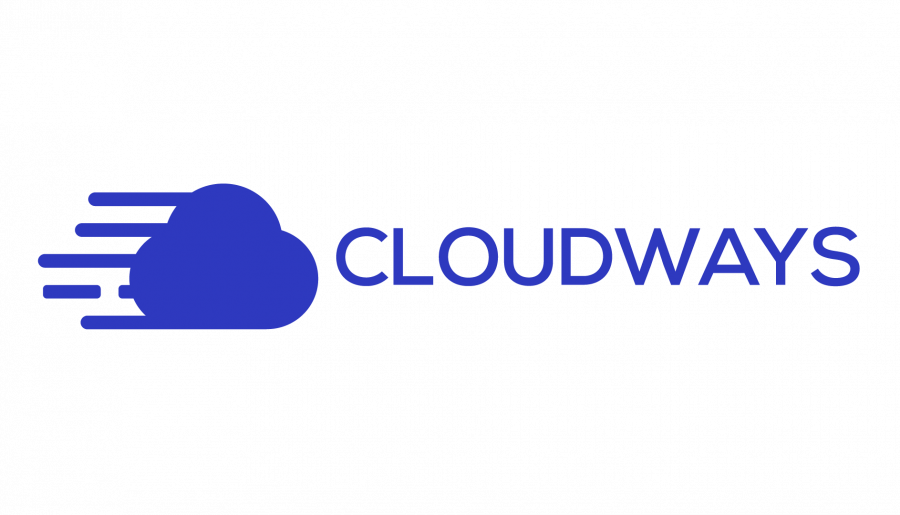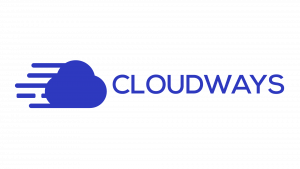 This is a very comprehensive and detailed review of Cloudways with many data and detailed analyses. If you don't want to read the full article, I will cover Cloudways's Pros and Cons in this table.
Cloudways

PROS

Cloudways

CONS

– Flexible plans, wide range of choices
– Strong inhouse CDN, 1 click Magento 2 installation
– Optimized for Magento 2 With Advanced Caches
– Free website Migration
– Free stagging environment to test Magento 2 themes/extensions before go live.
– Easy server cloning
– Limited bandwitdh
– Phone and slack support with Support Engineer only available in premium support package.
– As cloudways does not own servers, server issues sometimes need to wait for response from infrastructure providers
We will go into detail in the next parts of this review.
About Cloudways
Cloudways has been in the hosting industry for 9 years (founded in 2012). Unlike other hosting providers, Cloudways mainly focus on opensource application hosting like Magento & Magento 2 hosting, WordPress, Drupal, Joomla Hosting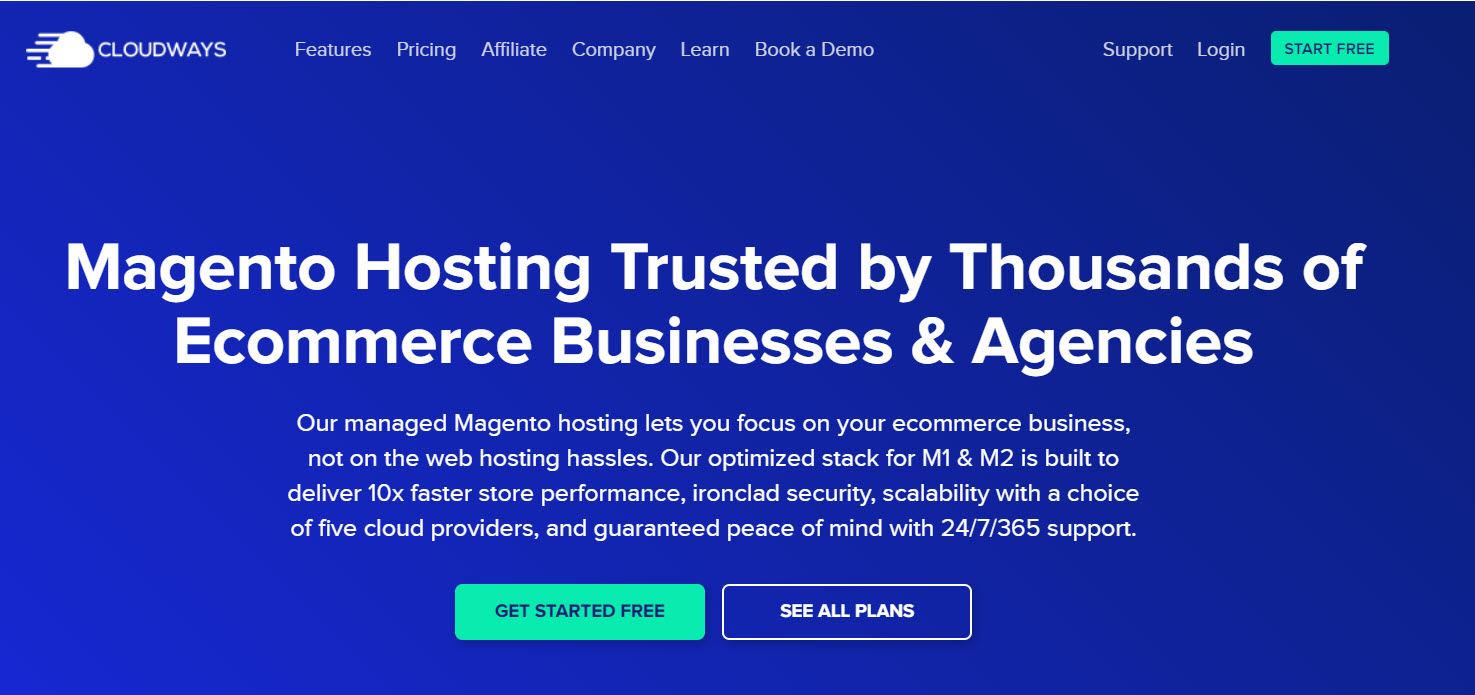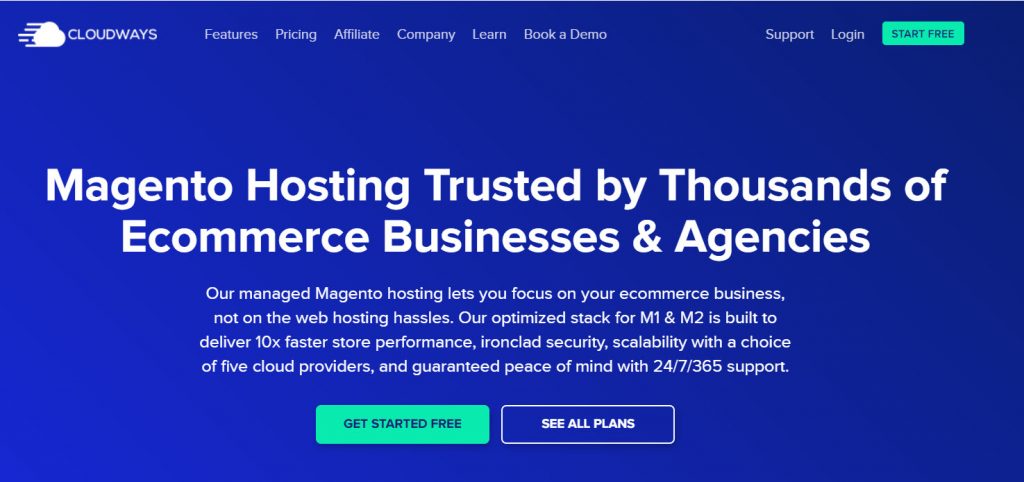 Visit Cloudways website
Currently, Cloudways is serving ~30.000 websites from 45 different countries.
Cloudways is a fully managed hosting provider, which means they will help customers deal with every technical aspect of their website, from server issues to application issues. Customers will be able to concentrate on running their business without worrying about technical issues.
Although Cloudways support many types of opensource application, their main focus are Magento 2 and WordPress.
Features
Unlike other hosting providers, Cloudways does not have its own datacenter. Instead, Cloudways partners with well-known cloud infrastructure providers including Digitalocean, AWS, Google Cloud, Vultr, Linode.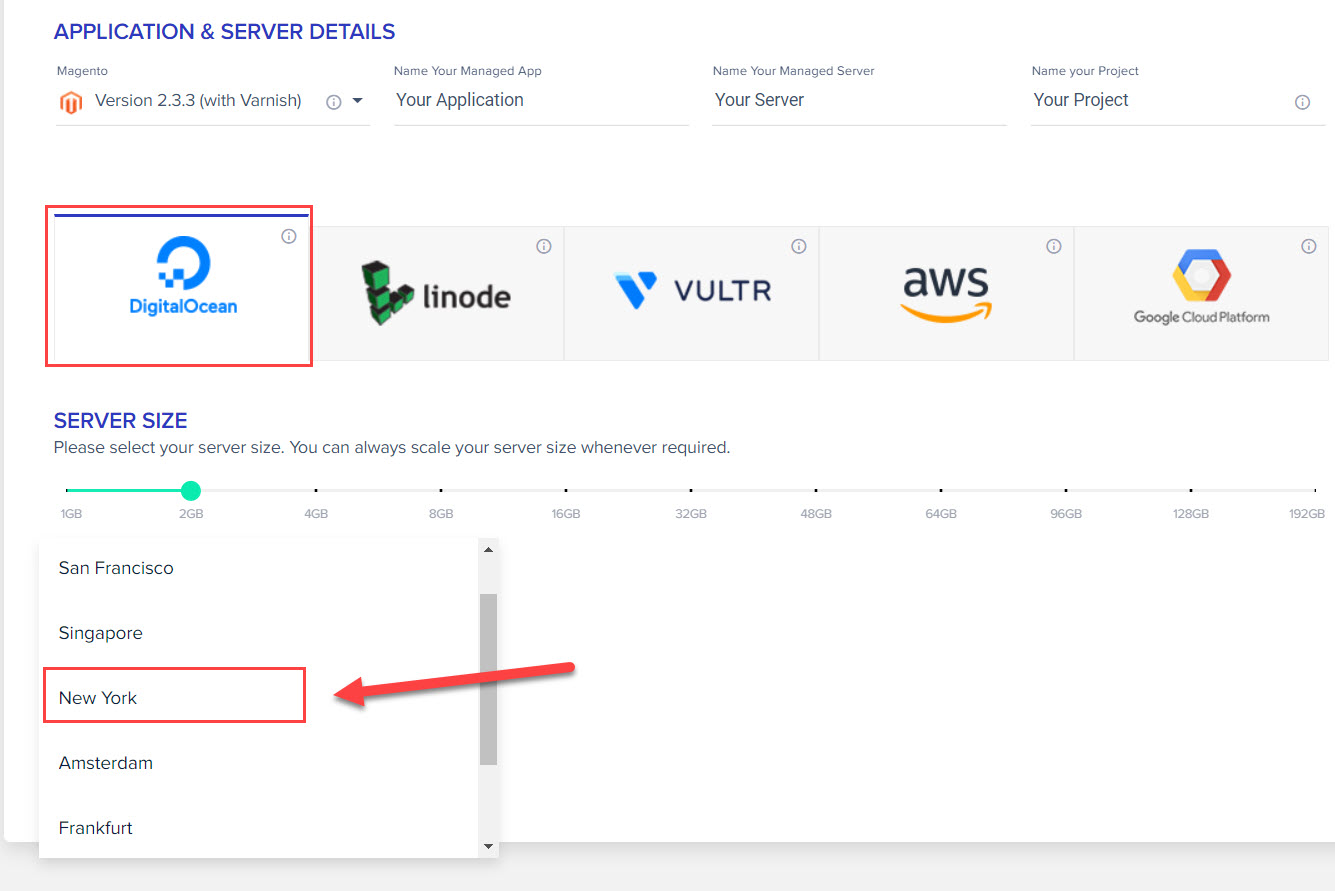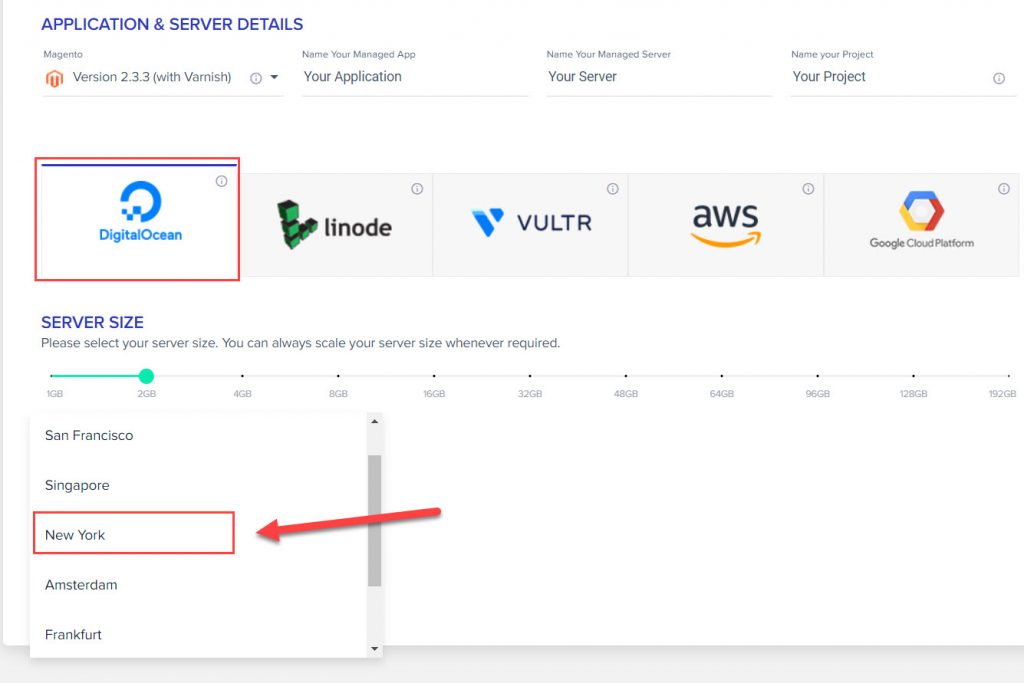 Magento 2 installation in One Click
Customer can easily install Magento 2 within a few click use Cloudways Magento 2 installation feature that was integrated in Cloudways Dashboard.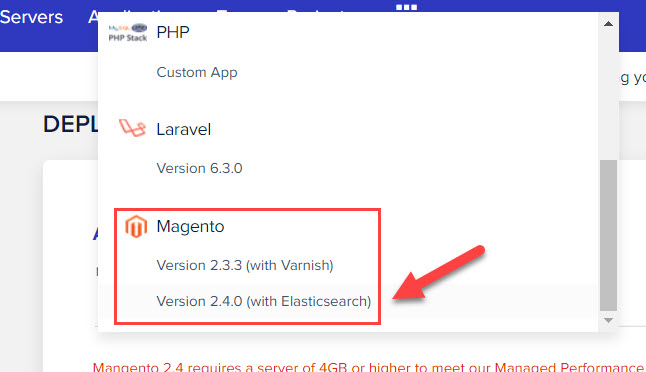 If you don't want to install Magento 2 using many complicated command lines with a lot of requirements then this feature is for you. You will have a ready Magento 2 website in the latest version in no time.
I have already published a tutorial on how to use this feature here.
Strong inhouse CDN
All Cloudways customers are eligible to use Cloudways in-house CDN (Content delivery network) for free. When a customer accesses your website, the CDN helps reduce the load time of your website by sending customer to the nearest CDN points of presence.
For example, you host your website on a server located in United Stated and your website serves customers from various location like US, EUROPE & ASIA.
Without a CDN, it will take a longer time to load your website for a customer from ASIA due to distance, data will travel from the US to ASIA.
With a CDN, there will be several CDN server locations around the world to store your website data, and the customer from ASIA will be sent to the server that is closest to his location to reduce load time.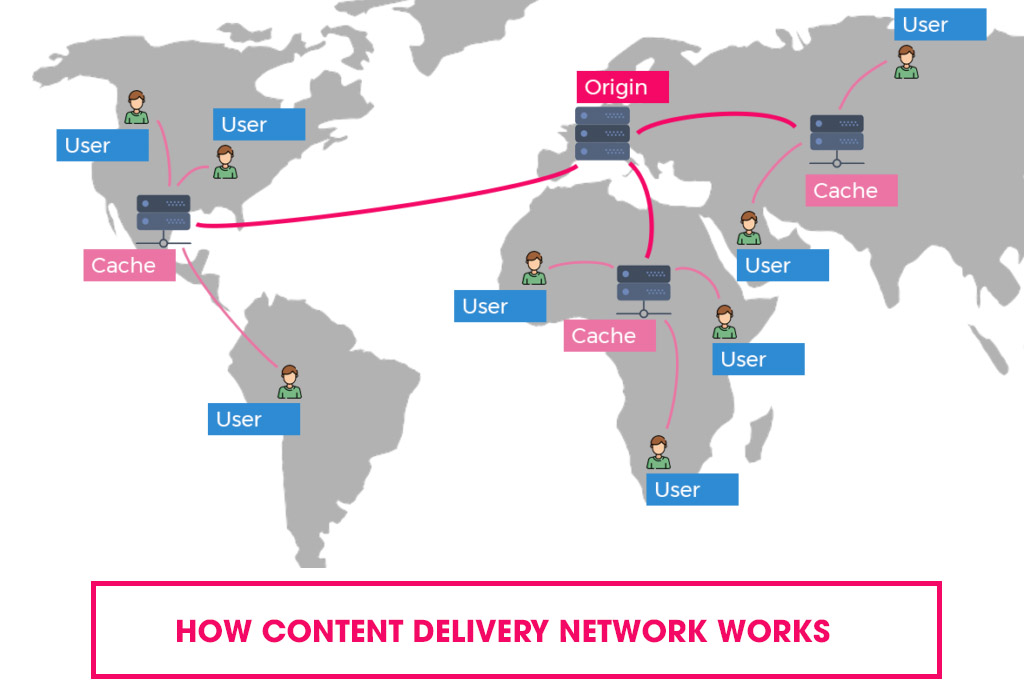 Refer how to install and use Cloudways CDN for Magento 2 here
Optimized for Magento 2 With Advanced Caches
Magento 2 is a resource-intensive platform. Without caching solutions, your server will be very slow when handling concurrent requests.
Cloudways offers various caching solutions for Magento 2 customers such as FPC, Varnish, Memcached, and Redis (for Magento 2, I recommend using Redis and Varnish cache)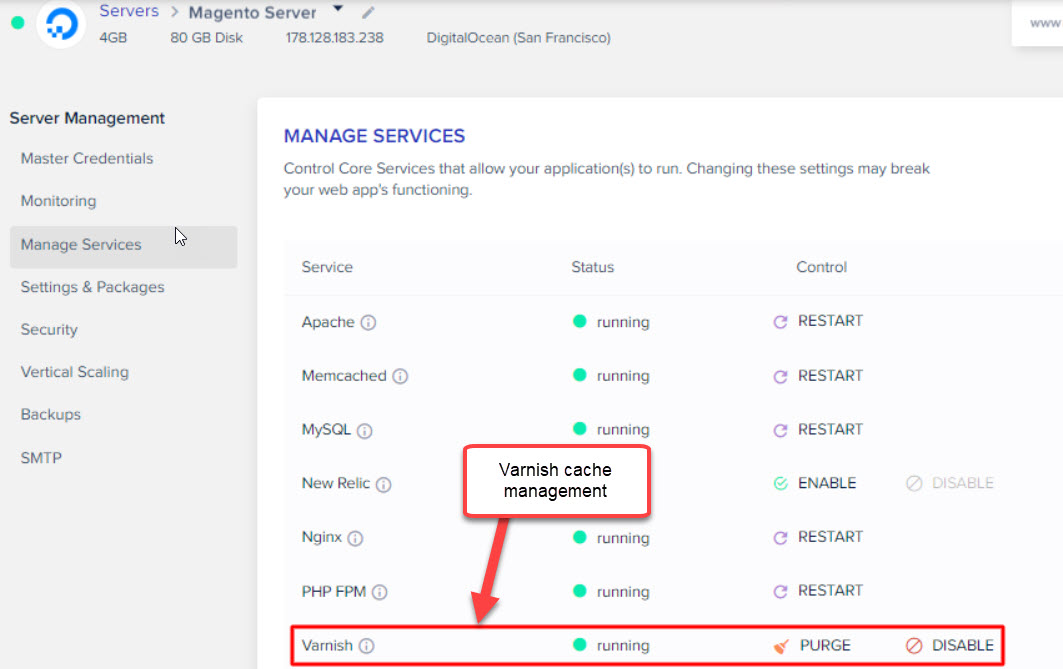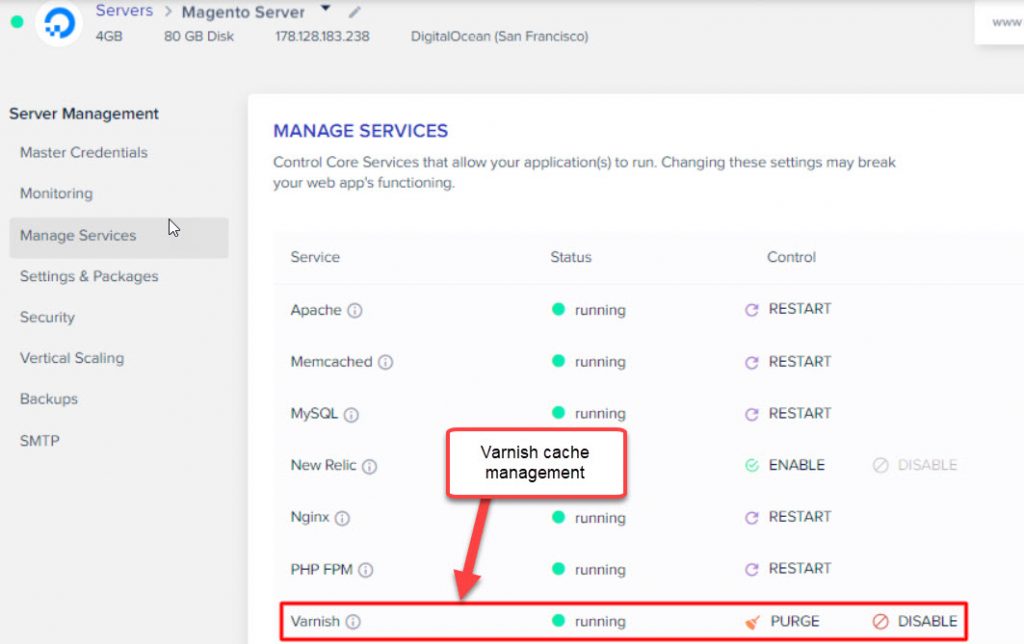 After installing and configuring Varnish and Redis Cache, I see a significant performance boost for my Magento 2 website on Cloudways. You can see the screenshot below: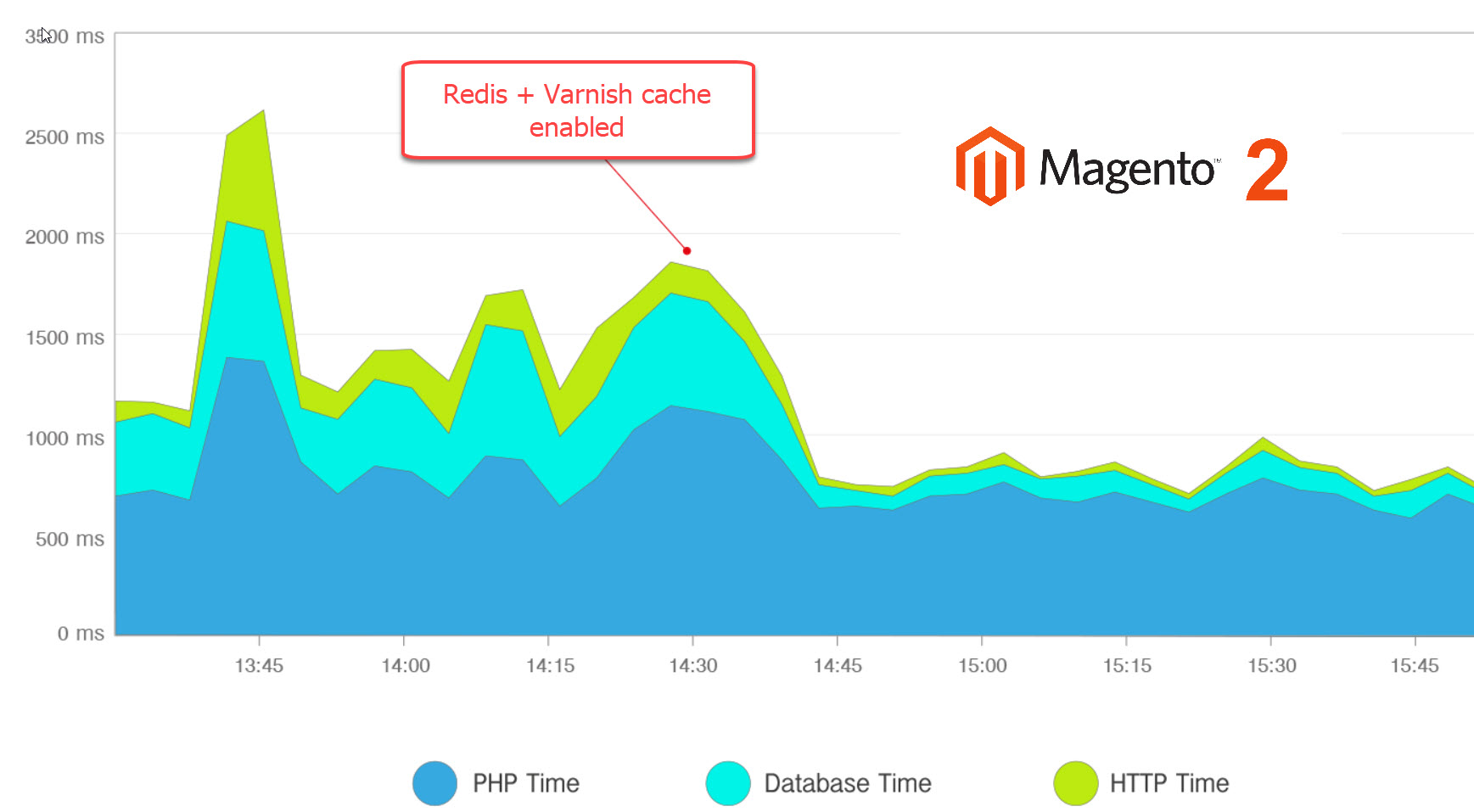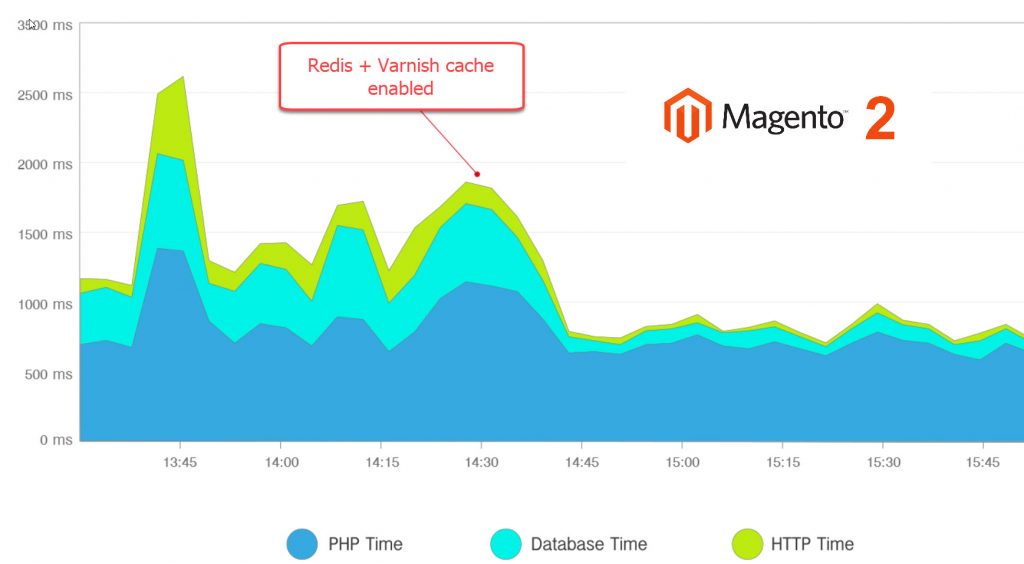 Easy server cloning
One of my most beloved features on Cloudways is the ability to clone server. As a Magento 2 developer who works with many projects at the same time, I usually need to clone a stagging server for development purposes.
With other hosting providers, I will need to download server files then reupload them to the new server.
In Cloudways, I can simply click on Clone server and select the new server to duplicate all the files and applications.


This feature is extremely helpful if you wish to:
Change your cloud provider, such as from Digital Ocean to Linode, Linode to AWS…
Change the server region, for example: US to Singapore, Japan to US.
Move your current server onto a new server or different server type.
Load testing.
Free stagging environment to test Magento 2 themes/extensions before go live.
This feature is very interesting, especially for Magento 2 users who want to try new Themes/Extensions on a stagging site before installing them on live site.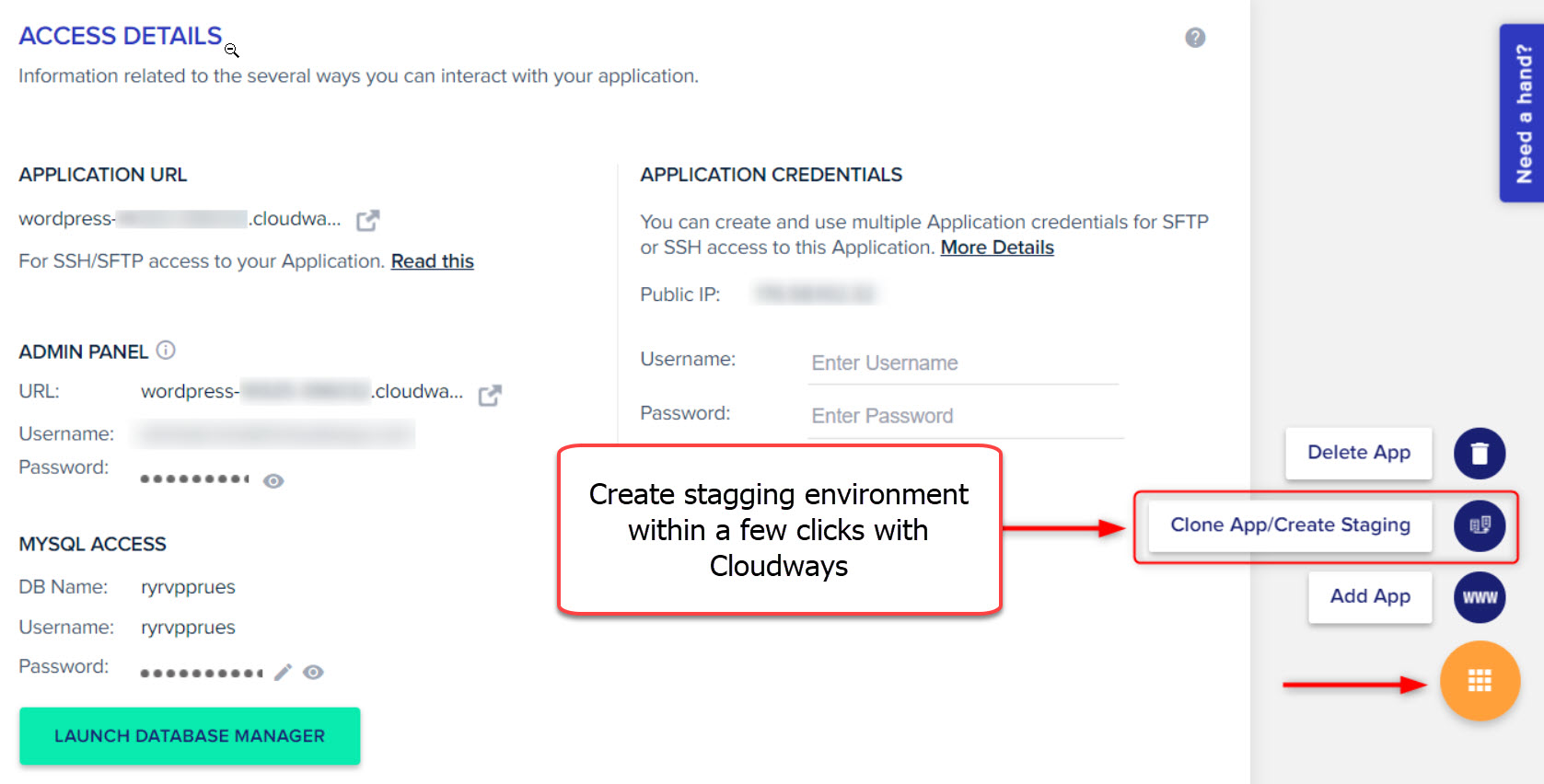 After finishing, you can access the stagging site directly from dashboard

After you made changes to stagging site, you can easily push the changes to your live site. For example, I installed a wordpress blog for my Magento 2 store on stagging environment. After finishing setting up the blog, I will push the website code files and database to my live blog like this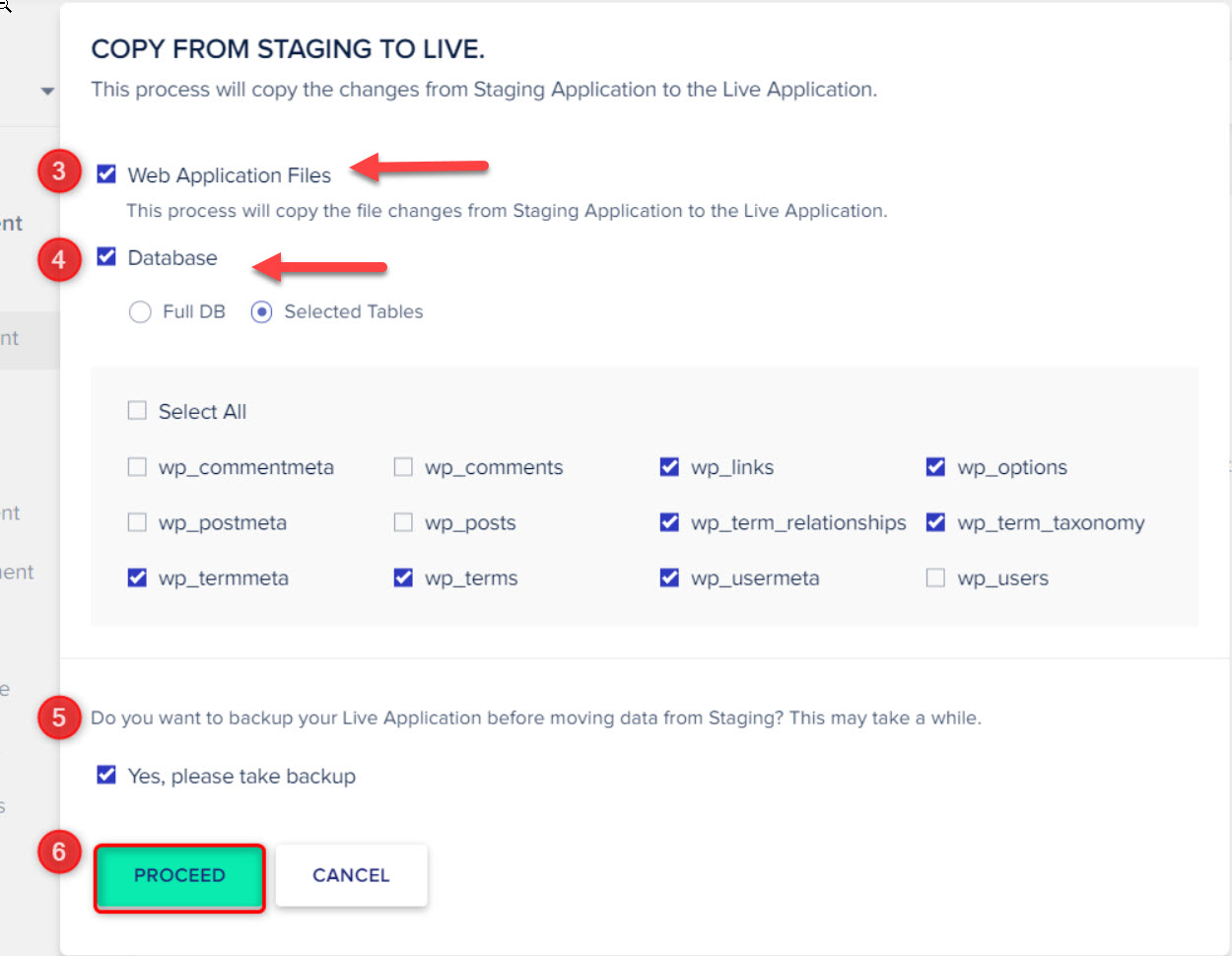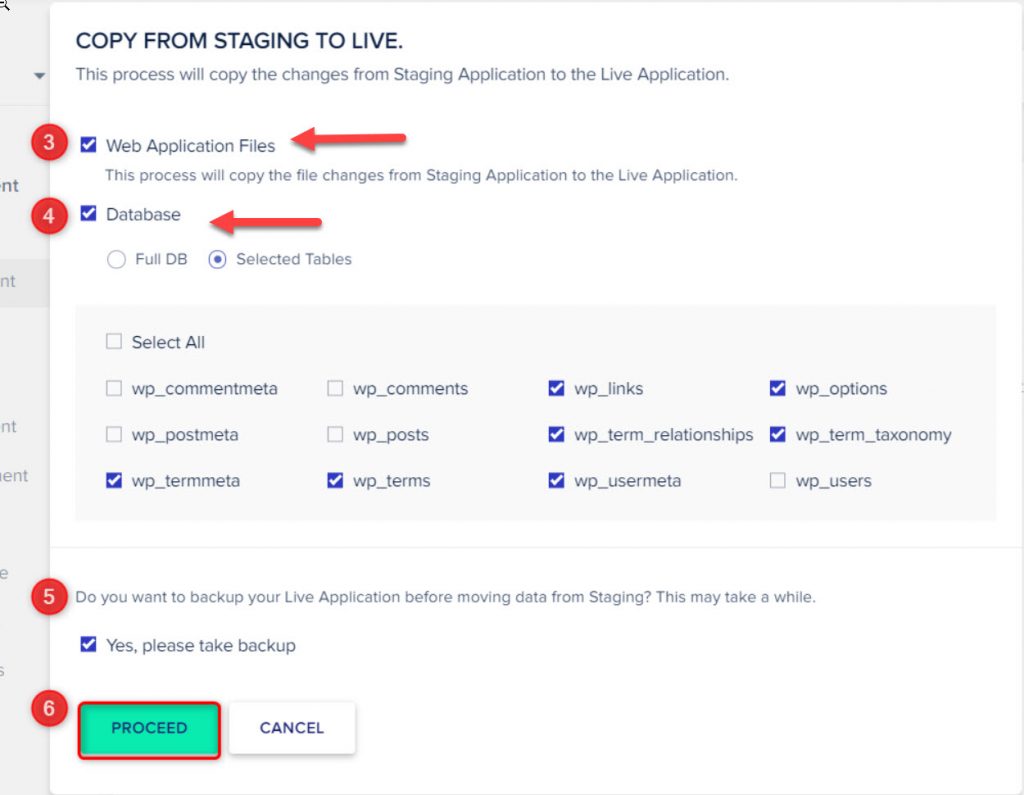 As you can see, we can select what to be pushed to our live site easily.
Price
As Cloudways partner with various cloud providers, you will also have a wide range of choice. DigitalOcean, Vultr and Linode offer the cheapest plans, while AWS and Google Cloud are much more costly.
To run the latest versions Magento 2.4.x, I recommend using at least 2 core and 4GB ram (Plan 3) because from Magento 2.4, Elasticsearch needs to be installed on your server.
With the older version of Magento 2 (2.3.x or lower), you can choose plan 2
DigitalOcean: start from $10/month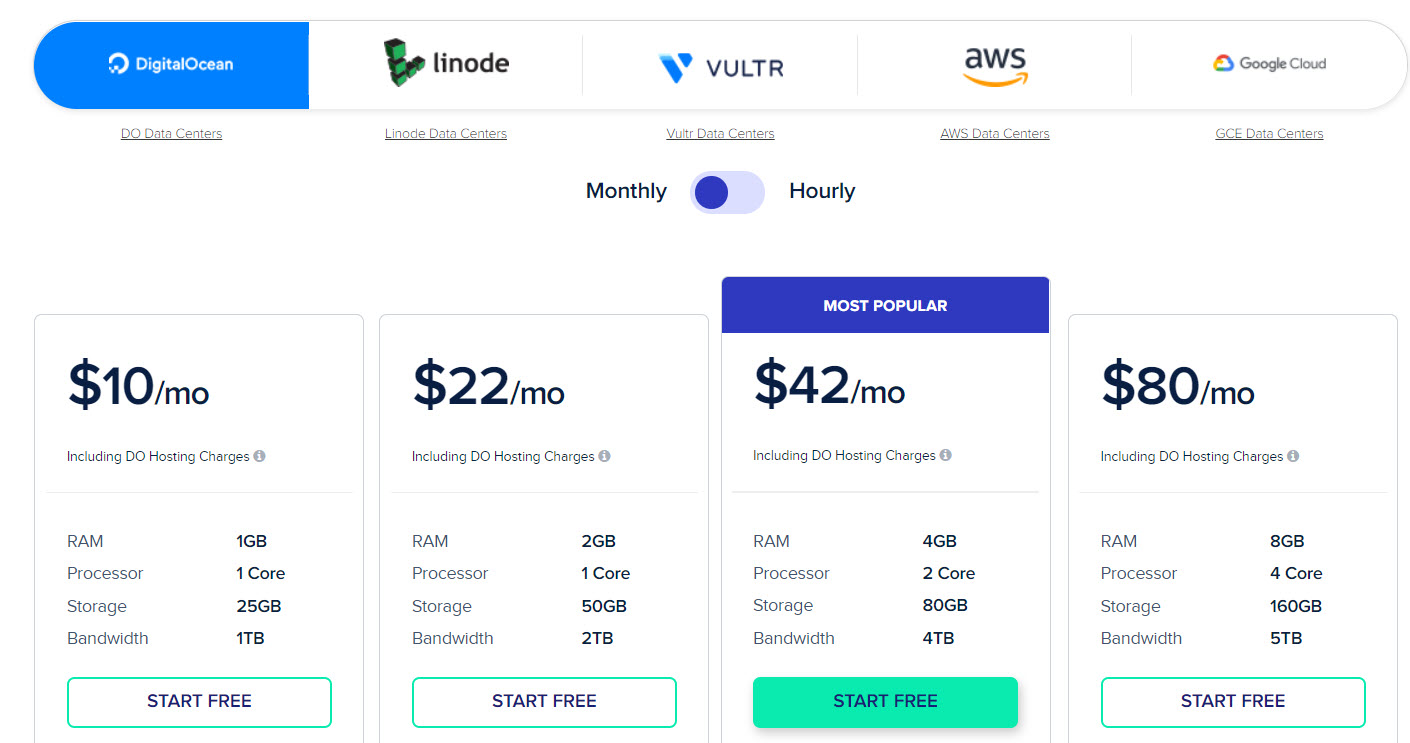 Linode: start from $12/month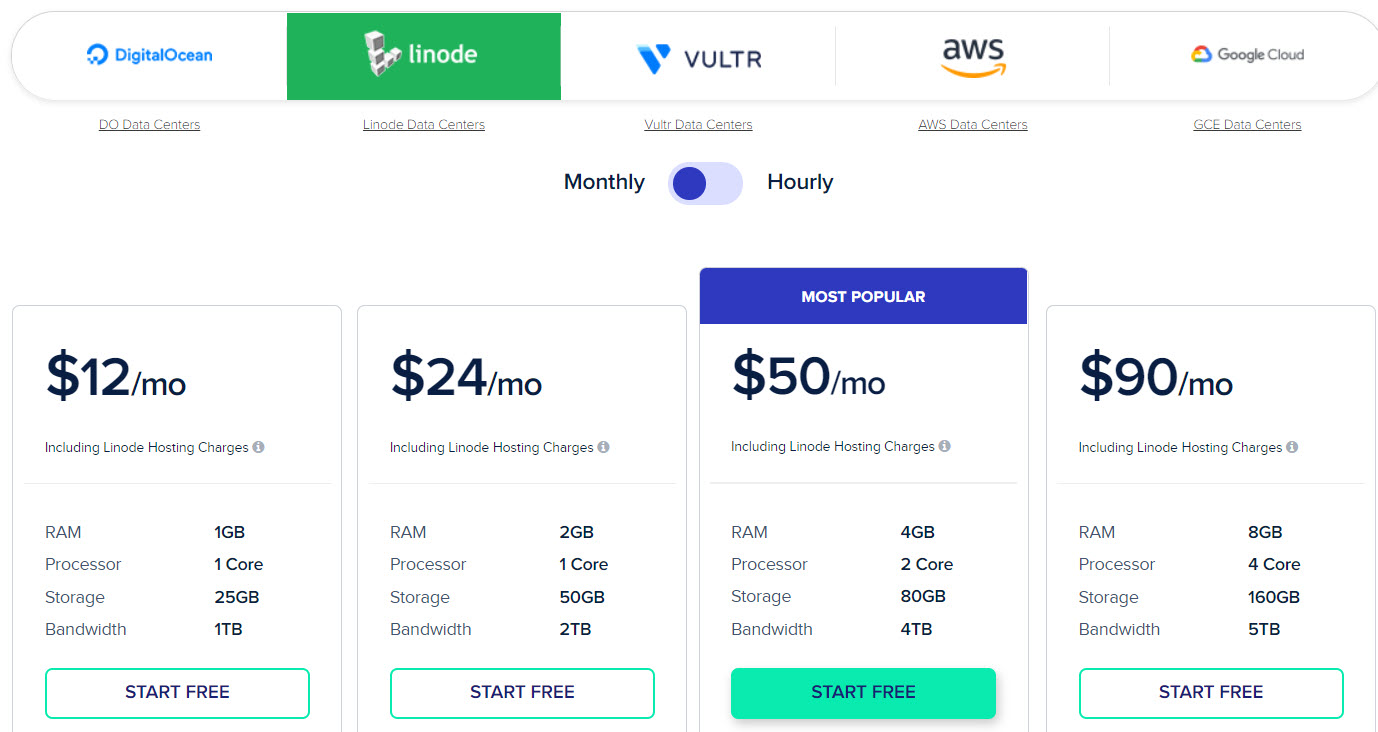 Vultr: start from $11/month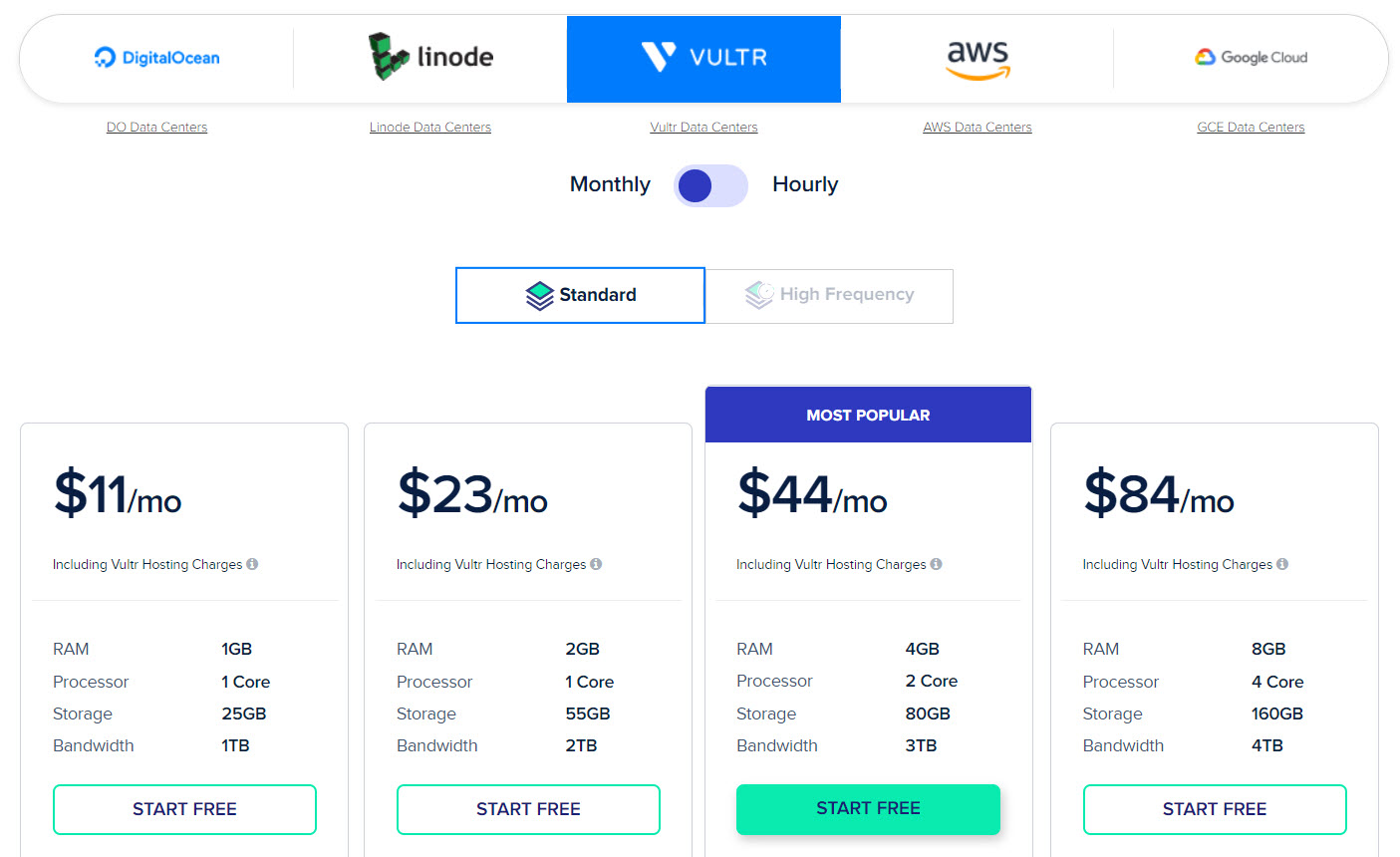 AWS and Google have much higher pricing with the same server specification.  If you are looking for an affordable hosting option, I recommend using Vultr, DigitalOcean, or Linode.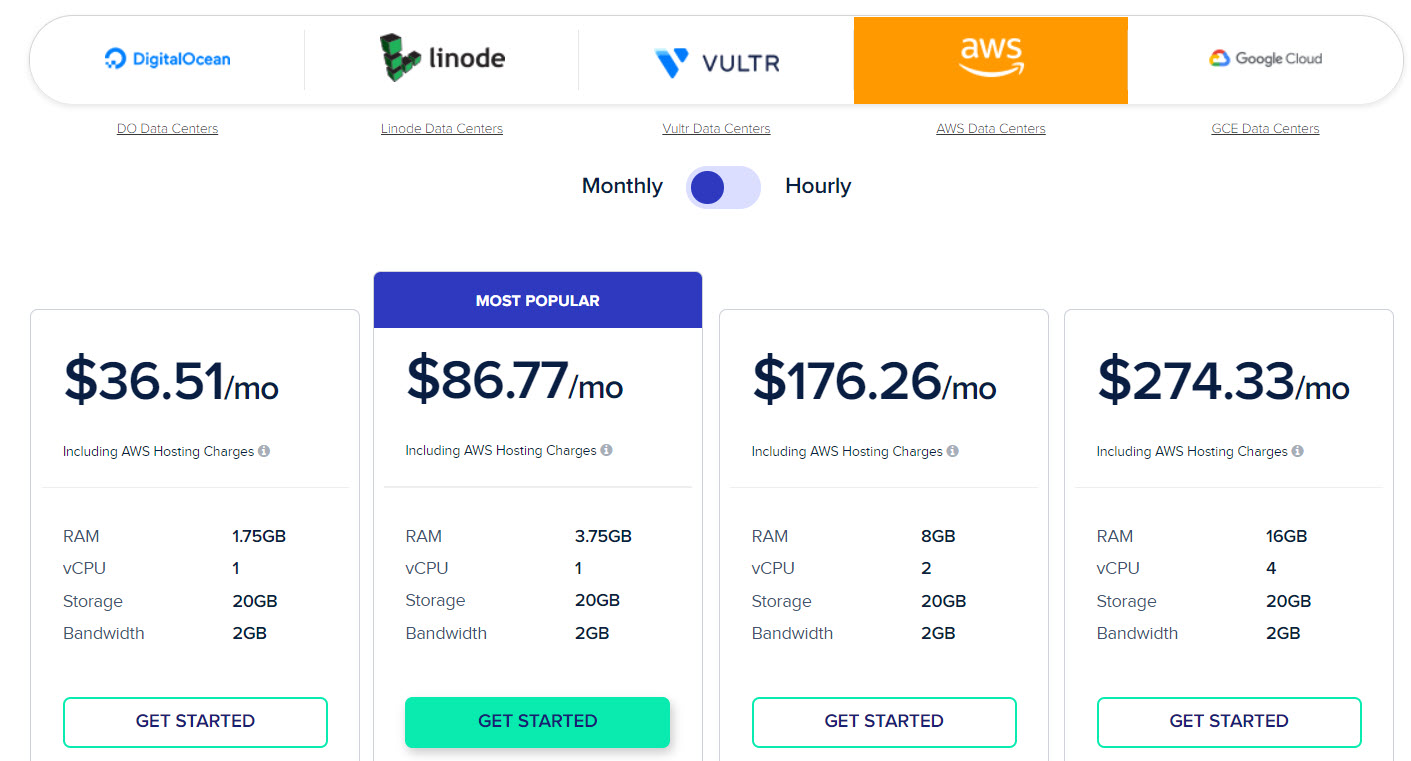 Support
Cloudways provides 3 support methods:
Livechat: I usually use Livechat for minor issues or other issues like payment, ticket tracking… and the support staff are very helpful. If you have issues related to hosting or application, the support staff will convert your issue to a ticket for better track the progress.
Ticket system: Ticket system is best to use if you have complicated issue. Both you and the support staff can keep track of your issue.
As a managed hosting provider, Cloudways provide professional support on server related tasks such as
Free website migration (which means you can ask them to move your Magento 2 website from another provider to Cloudways for free, and Cloudways will make sure that your website operates flawlessly after the migration)
Support on application-level issues: Support staff are certified Magento 2 developers who are willing to help you fix various Magento 2 issues.
Private slack channel: Cloudways customers can access their private slack channel where customer can directly interact with Cloudways support engineers to solve hosting issues or Magento 2 issues (only available for premium support package)
The average response time from Cloudways is 10 minutes for high priority level ticket, which is very amazing.
Performance
While price often plays a significant role when choosing a web host, you cannot compromise on performance. That's why I keep using Cloudways till now even there are some other cheaper Magento 2 hosting providers.
Let's see Cloudways performance test on real Magento 2 website.
Stress Test
I did a stress test on a real website of my customer running on Cloudways Magento 2 hosting. Here is the result from loadimpact – a dedicated tool for stress testing a website.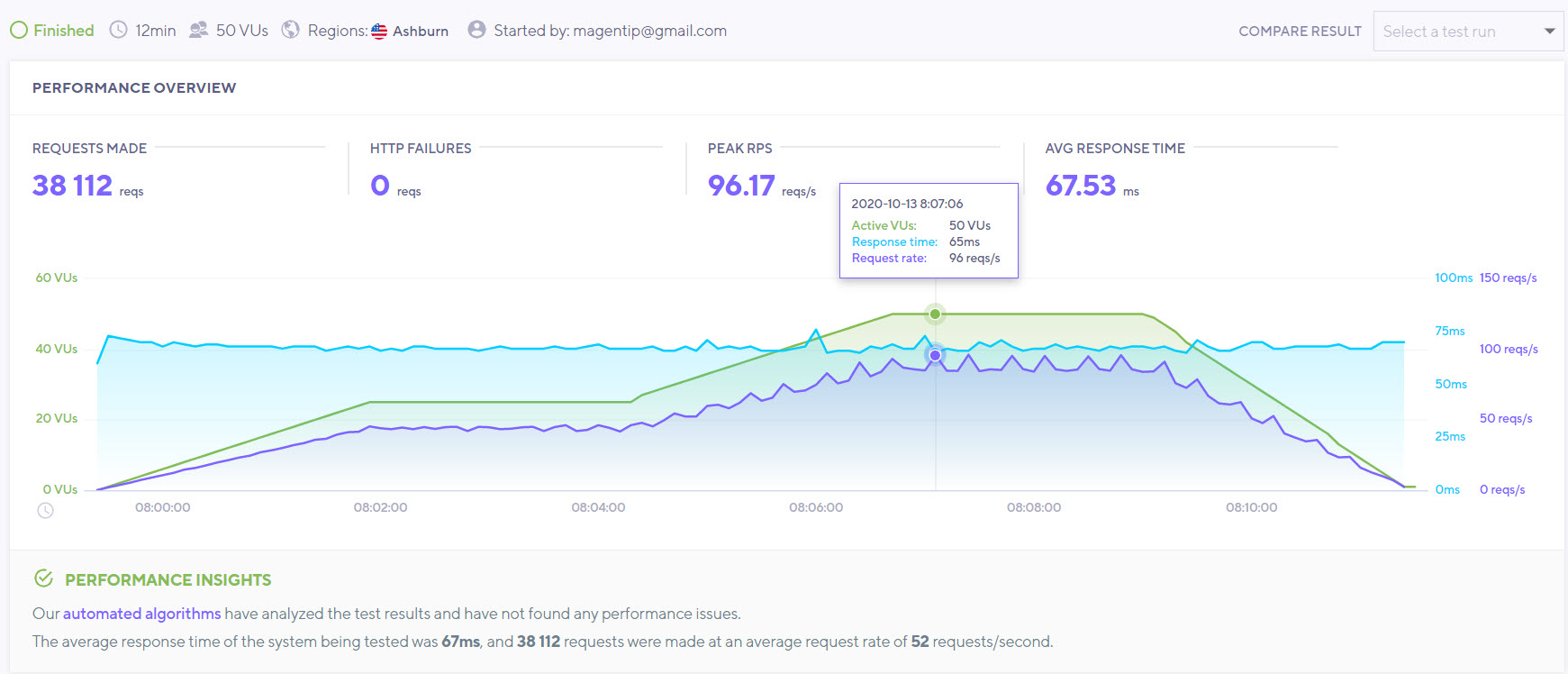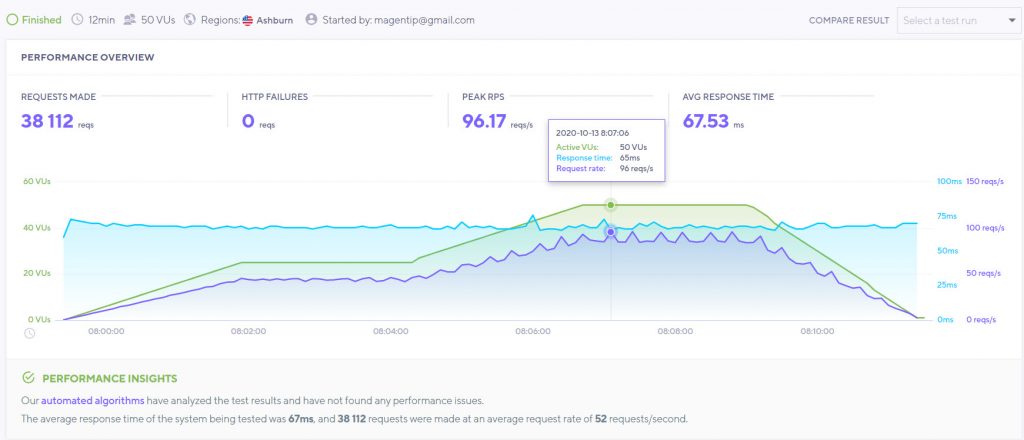 Green line represents Active VUs (the number of concurrent virtual users)
Blue line represents response time from the server
Purple line represents the number of request per second
As you can see from the chart, my client's website on Cloudways remains steadily when the number of concurrent users keep increasing. The average response time during the test was ~67.53 ms even when active VUs and Request rate are at their peak.
The test indicated that Cloudways hosting is stable and reliable to run your Magento 2 website.
Note that the Magento 2 website in this test have Redis and Varnish cache enabled.
Ping test
I will show you the value of CDN in this test. I will do 2 test with and without CDN enable on my Cloudways account.
With Cloudways's in-house CDN enabled, here the amazing result from the ping test

Here are response time from diffent locations over the world, from Asia to American, EU. The CDN did pretty well, ping is under 5ms in every location that has a Cloudways CDN server.
Without CDN enabled, this is the result
Load test
I test a default Magento 2.4 website with no cache enabled using Pingdom. The test returns 81 performance grade on a fresh Magento 2.4 website with 3.92s load time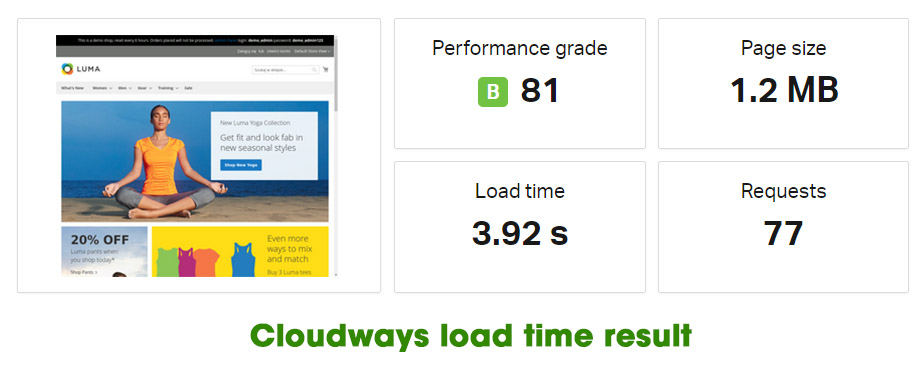 Real users reviews on Cloudways
I collected real users' feedback on Cloudways hosting service, let's see what people say about Cloudways
This tweet describes how Cloudways did their job as a Managed Magento 2 hosting provider
I know this isn't exactly what you're looking for, but I went with @Cloudways. I don't even have to worry about keeping the management system up to date, one reasonable payment, and it just works.

— Dane Morgan – learning to walk without rhythm (@danemorgan) February 15, 2021

Another praise from user for Cloudways
As for my use cases cloudways is the best managed hosting service I have chosen from hundreds of others with digitalocean. Thank you @Cloudways

— SciFi Naut (@NautScifi) February 16, 2021

Anna Grunduls tells us that her site is 4x faster on Cloudways
I just moved my shop's hosting to @Cloudways and it loads over 4x faster! It's bananas!
Check out my (the same) lightning-fast website: https://t.co/4BIPiLjafu 😍😍😍

— Anna Grunduls 🖍️ 💌 🛒 (@annagrunduls) February 18, 2021

Frank Alexander told us that Cloudways ignore his warning about security concerns.
@wpcrafter I found a security concern with cloudways. I tried warning them but they ignored it. Maybe a interesting video idea.

— Frank Alexander (@frank1983_com) February 17, 2021

Here is a tweet from Cloudways partner who runs multiple client websites on Cloudways
We've just partnered up with @Cloudways and the speed increase for our clients websites is outstanding. We're looking forward to the future of our website creations and sharing the success 🙌👊 #wordpress #webdesign #hosting pic.twitter.com/BAPnbiWtKO

— BarrettStacey (@BarrettStaceyGB) February 17, 2021

A user feels disappointed with Cloudways as their website data couldn't be recovered
Really #disappointed with @Cloudways who have deleted a website and can't restore it. Years of data and information lost – am absolutely #gutted and they aren't worried. #donotuse

— billymc (@billymc164) February 17, 2021

Shubham Aggarwal complained that Cloudways verification process had been so long
@Cloudways why in the world is your verification process so pathetic? As a new customer it's really sad to wait 3+ days for a simple verification. Please do something about this. Thanks.

— Shubham Aggarwal (@brandingbum) February 20, 2021
Conclusion: Is Cloudways the Right Choice to host your Magento 2 website?
The answer is YES!
Having tried many different hosting companies, I found out that Cloudways is among the best Managed Magento 2 hosting provider in term of support – price and hosting features.
If you are looking for an affordable managed Magento 2 hosting provider => Go with Cloudways and you will not be disappointed.